Learn Guitar
Learn to play guitar easily and quickly with a patient teacher and performing musician in a scenic setting of the San Francisco bay area. Absolute beginners to intermediate guitarists. Acoustic and/or electric guitar.
Styles include folk, rock, blues, rock and roll, reggae, ragtime, bluegrass, finger-picking, and more. Learn how to play by ear, improvise, play and sing at the same time. Learn valuable insight on musicanship, playing in a band, songwriting and recording. Learn how to practice effectively and efficiently.
Printed handouts with chord shapes and fingerings, strum patterns, tablature of main hooks and riffs, along with a digital audio file of the song will be provided for each lesson.

My approach is to teach the roots of most popular music by showing the essential open chords, strums, bar chords, guitar runs, picking technique, and progressions of folk, rock, blues, bluegrass, and popular music.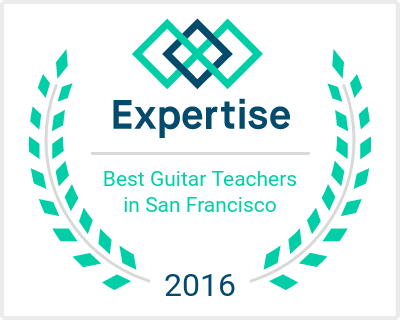 Learn songs from Neil Young, Jack Johnson, The Beatles, Green Day, Bob Dylan, Death Cab for Cutie, Paul Simon, Elizabeth Cotten, The Grateful Dead, The Rolling Stones, Black Keys, John Lennon, Jerry Garcia and much more.
I customize the lessons to teach the styles and songs from bands you like and are interested in learning.
Check my musical history for my musical background.
I perform approximately 75 live shows per year with This Old Band as well as live acoustic solo performances and roughly 75 live solo broadcasts.

your instructor - joe rizzo - berkeley 4th st market plaza - dec 2018
Lessons
In person lessons are taught private one on one at Cosmic Circuit Studio in El Cerrito, California. Proof of Covid-19 vaccination is required for in person lessons.

Online private lessons via Zoom, Skype, Facetime, and other video services are also availble (see FAQ below for details).